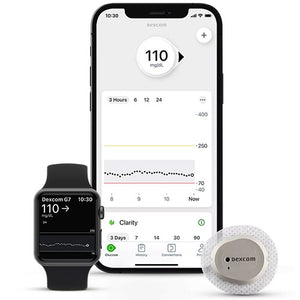 Dexcom G7 CGM System
The Dexcom G7 is a continuous glucose monitor with a mean absolute relative difference (MARD) of 8.2% in adults that measures interstitial glucose levels and sends the data to compatible devices including smartphones and the G7 receiver every 5 minutes. The all-in-one sensor/transmitter, which has a 10-day lifespan, is waterproof and can be worn on the upper buttocks and back of arm in children 2–6 years old and on the back of the arm in users 7 years and older. The device can be used for treatment decisions and does not require fingerstick calibration. Device data can be tracked by the users on the G7 app, support personnel on the Follow app, and by health care professionals on the Clarity app. The device features high and low alerts and predictive urgent low alerts.
---
Features
No Calibration Required

Alerts and Alarms

No Finger-Stick Confirmation

Long Transmitter Range

Transmits Data Continuously

Approved for Use in Kids

Sends Data to Smart Device

Shares Data Via App

Combo pump-CGM
---
Specs
Transmitter & Sensor Size:
24 mm x 27.3 mm x 4.6 mm
Transmitter & Sensor Weight:
7.5 g
Receiver Size:
93 mm x 50 mm x 11.9 mm
Transmitter Range:
20 (unobstructed) feet between Dexcom transmitter and smart device or receiver
Battery Type:
The sensor/transmitter has a non-rechargeable, integrated battery with a 10 day wear period. The receiver battery has a 7-day longevity and a 3-hour charging time.
Data-Management Software:
Compatible with Dexcom CLARITY, Glooko, and Tidepool data-management systems.
Water Resistance:
Sensor with attached transmitter is water resistant for up to 8 feet deep for 24 hours, so you can wear it while bathing and swimming. The receiver should not get wet.
---