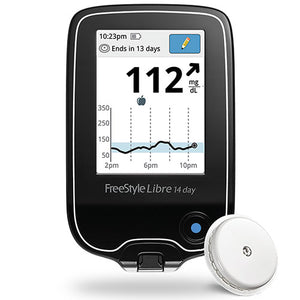 FreeStyle Libre 14-Day System
The Freestyle Libre 14-day system is a flash glucose monitoring system that reads interstitial glucose levels through a sensor. The sensor, which is worn on the back of the upper arm, must be scanned by either the reader or a phone with the LibreLink app in order for the wearer to see their glucose. When scanned, the device shows glucose levels as numeric values as well as trends. No fingerstick confirmation is required when making treatment decisions. The FreeStyle LibreLink app allows users to use a smartphone to view their real-time glucose levels, access their eight-hour glucose history, and see changes in glucose. And using the LibreLinkUp app, up to 20 people can track a user's glucose data and trends on select Apple and Android smartphones.
---
Features
No Calibration Required

No Finger-Stick Confirmation

Short Warm-Up Time

Built-In Meter

Sends Data to Smart Device
---
Specs
Transmitter & Sensor Size:
1.38 in. diameter x 0.2 in.
Transmitter & Sensor Weight:
0.18 oz
Receiver Size:
2.36 x 3.74 x 0.63 in.
Transmitter Range:
The reader must be within 1.5 inches of the sensor to scan it.
Battery Type:
Sensor has 1 silver oxide battery. Reader has 1 rechargeable lithium ion battery.
Data-Management Software:
Sends data to the user's FreeStyle LibreLink app and LibreView, a cloud-based diabetes-management system. FreeStyle Libre desktop software can be used to view reports and change reader settings. The software is compatible with most Windows and Mac operating systems.
---