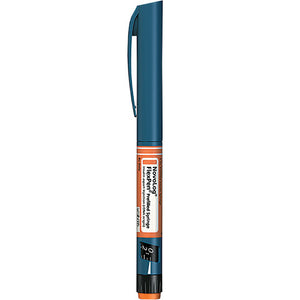 NovoLog FlexPen
NovoLog FlexPen (insulin aspart U-100) is a rapid-acting insulin analog available in a disposable insulin pen with a push-button extension. The pen can dial doses up to 60 units in increments of 1 unit.
---
Features
Audible Clicks During Dosing
---
Specs
Insulin Types:
Rapid-acting
Dose Delivery:
1-unit increments, up to 60 units at a time
Total Capacity:
300 units
Color:
Pen is blue with an orange and white label.
---