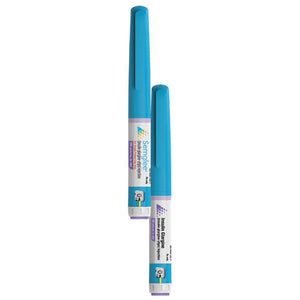 Semglee Pen
Semglee (insulin glargine-yfgn U-100) is a long-acting biosimilar insulin that is delivered via vial and syringe or a disposable insulin pen. It is approved for use in children and adults.
---
Features
Audible Clicks During Dosing
---
Specs
Insulin Types:
Long-acting
Dose Delivery:
1 to 80 units in steps of 1 unit
Total Capacity:
300 units
Color:
Pen is blue with a white label.
---