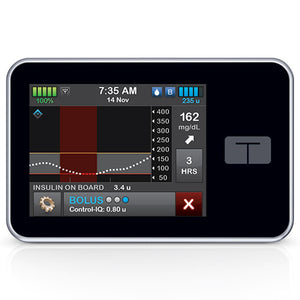 t:slim X2 Insulin Pump With Control-IQ
The t:slim X2 pump is an advanced hybrid closed-loop system that pairs with the Dexcom G6 continuous glucose monitor (CGM). The Control-IQ system is designed to predict blood glucose (blood sugar) levels 30 minutes in advance based on readings from the CGM, and automatically adjust basal insulin delivery, to help prevent highs and lows. Control-IQ technology can also deliver an automatic correction bolus up to once per hour, if needed. Users are still required to bolus for meals, which can be done from the touch screen pump or from a compatible phone with the t:connect app. When paired with the Dexcom G6 CGM, the pump can be used without the need for fingerstick checks. The pump has a color touch screen and long-lasting rechargeable battery. In-warranty pumps can be updated with new features when they are approved using a computer, without requiring the purchase of a new device.
---
Features
Combo pump-CGM

Auto Basal Insulin Suspension

Auto Basal Insulin Adjustment

Auto Correction Boluses

Insulin-to-carb ratio fractions

View Data Via Smartphone App

Approved for Use In Kids

Remote Updates Option
---
Specs
Pump Size:
3.13 x 2 x 0.6 in.
Pump Weight:
3.95 oz. with battery and full reservoir
Reservoir Size:
300-unit reservoir
Basal Range:
From 0.1 to 15 units per hour in 0.001-unit increments
Bolus Range:
From 0.05 to 25 units in 0.01-unit increments with an option for up to an additional 25 units. Insulin-to-carb ratio allows for fractions of grams.
Battery:
Rechargeable lithium polymer battery, designed to last up to 96 hours
Infusion Set:
Compatible with Tandem infusion sets only
Water Resistance:
Pump is watertight but not waterproof. It can be exposed to up to three feet deep for up to 30 minutes. The pump should not be worn for activities such as swimming, where it would be exposed to water for an extended period of time.
Data-Management Software:
The device can upload pump and CGM data to Tandem's web-based t:connect Diabetes Management Application via USB or with the t:connect mobile app. Also compatible with Tidepool and Glooko data-management systems.
---