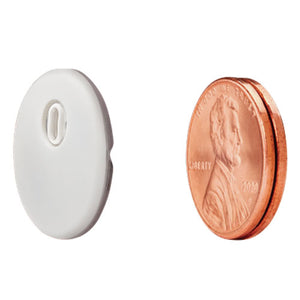 FreeStyle Libre 3
The Abbott FreeStyle Libre 3 is a continuous glucose monitor with a mean absolute relative difference (MARD) of 7.9%. The device measures interstitial glucose every minute and requires no fingerstick blood glucose calibration. It is worn for 14 days on the back of the upper arm by users four years of age and older. The device communicates real-time data continuously with the smartphone app via Bluetooth. Glucose levels are displayed as numeric values as well as trends in the Libre 3 app. CGM data can be shared with care partners via the LibreLinkUp app or health care professionals via LibreLink software. The device features real-time alarms for low glucose, high glucose, and signal loss.
---
Features
No Calibration Required

Alerts and Alarms

No Finger-Stick Confirmation

Long Transmitter Range

Short Warm-Up Time

Approved for Use in Kids

Sends Data to Smart Device

Shares Data Via App
---
Specs
Type:
Stand-alone, real-time CGM
Transmitter & Sensor Size:
2.9 mm x 21 mm
Transmitter & Sensor Weight:
1 g
Sensor Duration:
Up to 14 days
Transmitter Range:
33 feet
Battery Type:
Silver oxide
Data-Management Software:
Compatible with the FreeStyle Libre 3 app. Data is also available on the cloud-based diabetes-management system, LibreView.
---