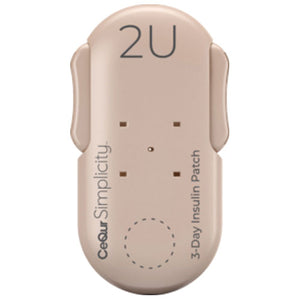 CeQur Simplicity
The CeQur Simplicity is a bolus-only wearable insulin delivery patch for adults. The device is designed to deliver U-100 insulin for mealtime and correction boluses. Each mechanical click delivers 2 units of insulin from at 200-unit reservoir. The product is approved to be worn for up to 3 days.
---
---
Specs
Pump Size:
2.5 inches x 1.4 inches x 0.3 inches
Pump Weight:
0.4 oz before fill
Reservoir Size:
200 units
Battery:
No battery. Uses mechanical power source
Infusion Set:
6 mm, 27-gauge plastic cannula
Water Resistance:
Device may be immersed to a depth of 3 feet, three inches, for 30 minutes.
Data-Management Software:
Does not work with data-management software.
---