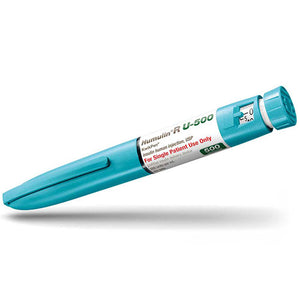 Humulin R U-500 KwikPen
Humulin R U-500 (insulin human injection, 500 units/ml) is an insulin 5 times more concentrated than standard U-100 insulin. Humulin R U-500 is for adults and children who require more than 200 units of insulin a day to manage blood glucose. Humulin R U-500 is available in a disposable U-500 pen or a U-500 vial and a special BD U-500 insulin syringe.
---
Features
Audible Clicks During Dosing
---
Specs
Insulin Types:
Long-Acting
Dose Delivery:
5-unit increments, up to 300 units at a time
Total Capacity:
1,500 units
Color:
Pen is light blue, with a light blue dose knob with raised ridges on the end. The label is white.
---