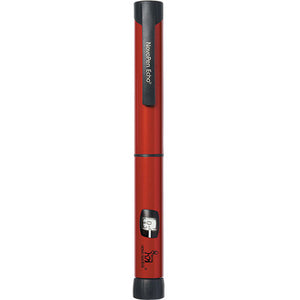 NovoPen Echo
The NovoPen Echo is a reusable insulin pen with a memory function. The pen utilizes insulin cartridges and allows for dosing in half-unit increments up to 30 units at a time. The memory function allows the user to view time since last injection.
---
Features
Doses in Half-Unit Increments

Memory Function
---
Specs
Insulin Types:
Rapid-acting
Dose Delivery:
Half-unit increments, up to 30 units at a time
Total Capacity:
300 units
Color:
Pen is available in red and blue with optional decorative skins.
---