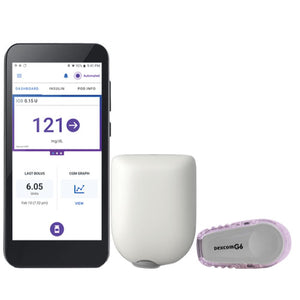 Omnipod 5
The Omnipod 5 system is a tubeless pump hybrid closed-loop system approved for use in patients 6 years or older with type 1 diabetes. The system communicates wirelessly via Bluetooth with the Dexcom CG6 to automate insulin delivery using the Smart Adjust algorithm built into the pod. The algorithm predicts glucose up to 60 minutes into the future. It has a customizable insulin delivery target with the option to deliver insulin doses up to every 5 minutes. The Smart Bolus calculator utilizes continuous glucose monitor value, trend, and insulin on board to adjust suggested boluses. Users can utilize a compatible smartphone or the Omnipod 5 Controller to manage the system. The pods are waterproof and can provide up to 72 hours of continuous insulin delivery.
---
Features
Combo pump-CGM

No Tubing

Auto Basal Insulin Suspension

Auto Basal Insulin Adjustment

Auto Correction Boluses

Insulin-to-carb ratio fractions

View Data Via Smartphone App

Shares Data Via App

Remote Bolus Function

Remote Updates Option
---
Specs
Pump Size:
Pod size: 1.53 x 2.05 x 0.57 in. Controller size: 5.67 x 2.66 x 0.69 in.
Pump Weight:
Pod weight: 0.92 oz. with empty reservoir. Controller weight: 5.82 oz
Reservoir Size:
200-unit reservoir built into pod
Basal Range:
From 0 to 30 units per hour in 0.05-unit increments
Bolus Range:
From 0.05 to 30 units. Increments of 0.05 units. Insulin-to-carb ratio in 0.1 g carb/units increments.
Battery:
Pod: Battery integrated. Controller: Rechargeable lithium-ion battery.
Infusion Set:
Does not use tubing. Pod comes with built-in cannula that automatically inserts when the pod is activated via the PDM.
Water Resistance:
The pod is waterproof for up to 25 feet deep for 60 minutes. The PDM is not waterproof.
Data-Management Software:
Smart Adjust algorithm built into the pod.
---