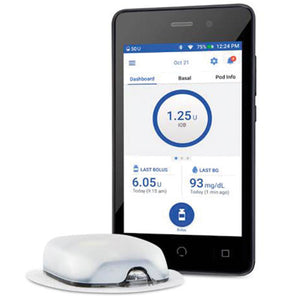 Omnipod Dash
The Omnipod Dash is a tubeless insulin delivery system that includes a pod that is worn for up to three days, and a personal diabetes manager (PDM) with a color touch screen that controls the pod's functions. The PDM is available in English and Spanish and communicates with the pod via Bluetooth to deliver the programmed basal as well as boluses based on user-entered data. The Dash system can pair to a Contour Next One blood glucose meter via Bluetooth so that blood glucose values are automatically entered into the PDM or can be manually entered from other meters or continuous glucose monitors into the PDM. The pod delivers basal insulin regardless of distance from the PDM but must be within five feet of the PDM to deliver boluses. The Omnipod Display app allows users to view PDM data on their smartphones and the View app allows users to share their insulin data remotely with up to 12 people. The PDM features a built-in CalorieKing food library with more than 80,000 foods and beverages (English only), stores up to 50 preset carb values, and has a zero basal setting.
---
Features
No Tubing

Insulin-to-carb ratio fractions

Communicates With Meter

Contains Food Database

View Data Via Smartphone App

Shares Data Via App

Approved for Use In Kids

Remote Bolus Function

Remote Updates Option
---
Specs
Pump Size:
Pod size: 1.53 x 2.05 x 0.57 in. PDM size: 2.48 x 5.1 x 0.39 in.
Pump Weight:
Pod weight: 0.92 oz. with empty reservoir. PDM weight: 3.74 oz.
Reservoir Size:
200-unit reservoir built into pod
Basal Range:
From 0 to 30 units per hour in 0.05-unit increments
Bolus Range:
From 0.05 to 30 units. Increments of 0.05 units. Insulin-to-carb ratio in 0.1 g carb/units increments.
Battery:
Pod: Battery integrated. Personal Diabetes Manager (PDM): Rechargeable lithium ion battery.
Infusion Set:
Does not use tubing. Pod comes with a built-in cannula that automatically inserts when the pod is activated via the PDM.
Water Resistance:
The Pod is waterproof for up to 25 feet deep for 60 minutes. The PDM is not waterproof.
Data-Management Software:
Works with Glooko and Tidepool data-management systems.
Approved Ages:
Cleared for all ages.
---